Get your website developed to mark your web presence
Top Web Development Company In India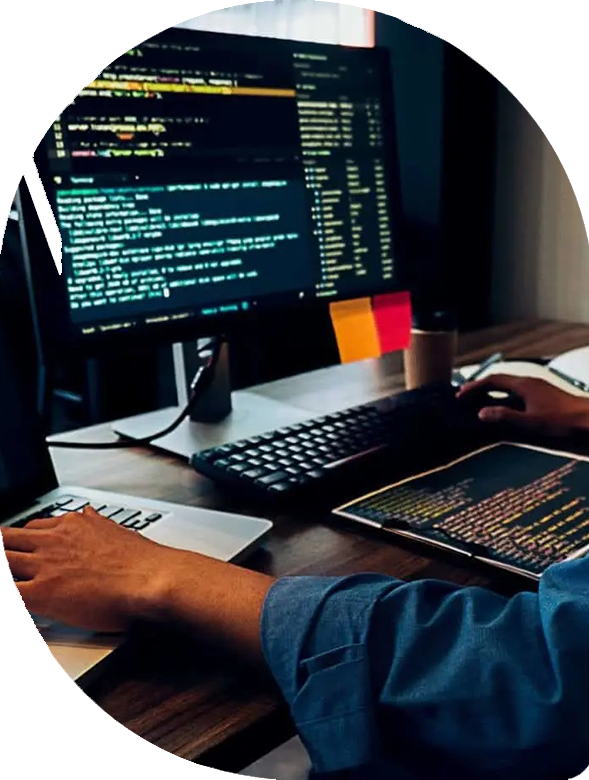 We develop websites that are not only visually engaging but also user-friendly.
In today's digital time it is very important to have a website that will showcase your brand or business on online platforms. We are considered among the top web development companies in India and you can rely upon us for your website development.Web development is the backend or coding process which makes the website functional for use. 

Top Web Development Companies in India
Now that you know what Web development is, let's see the services offered by best web development company in India to make things possible.

Custom Web Applications Development
We provide custom web application development services that provide high-end performance and are highly secured to avoid any breach. We use the latest technologies to achieve what we promised.

Cross Platform web Development
We develop cross-platform websites and web applications that are compatible with all kinds of browsers and are responsive in all screen resolutions be it Desktop, Tablet, or Mobile.

Website Database Development
A database is a place where all the data is entered like login information, Cart and transaction information if you require an e-commerce website, etc for access when required. We are considered the best eCommerce web development company in the market. We provide a secure and optimized database designing service for your website so that the saved data is safe and secure.

Website Migration and Upgradation
We provide website backup and migration services for migrating websites from one server to another server. Also for upgrading frameworks for the website for a better web experience.
How Does The top Web Development companies in India Work?
At Simpleelabs we follow a methodical and structured process for web development. Let's see our web development life cycle.
1. Getting the Requirement
A clear picture of the client's requirements is very important when it comes to development.  We do one-to-one interaction with our clients to understand their cleat's expectations and requirements. Every aspect, even the tiny bits are understood for the development process.
Once the requirement is understood now comes the phase of designing. Our team of experienced UI/UX and web designers sit along and come out with web design contang layouts, color schemes, images, fonts, etc. which are best suited for the user. Our designers use the latest tools and technology to design the website. A timeline is calculated for the project and it's now time for the development of the website.
Once the template is designed it's time to develop the website as per the templates. As we are known as the best WordPress development company in India, our team of top-notch best in market website developers use the latest tools and coding languages like WordPress, PHP, JavaScript, CSS, and many others for the development of the website.
4. Testing and Deployment
Once the system is developed it's time for testing whether all the elements are working fine or not. The website is presented to the user for checking if everything is fine or not and as per their requirement.  We have an experienced testing team who do multilevel rigorous testing before it is presented to the user for checking. Once the User approves the same the website is deployed on the server for people to access.
Once the website is deployed on the server we provide support for any bug which is encountered in the website which may hamper the user experience.
Why SimpleeLabs is the best web development company in India?
We are a team who believes in clients' business and provide quality web development services that can make your website stand out from the rest. We provide cross-platform independent and mobile-compatible websites which are not only secure but also provide the best user experience.
Know our expertise a bit closer!
Wondering why you should choose us? Let our technical expertise speak for itself! Search for Web Development Company near me
SimpleeLabs is a technology company with a mission to provide advanced digital experiences to customers and transform business outcomes.